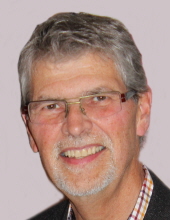 Obituary for Bradley Nelson
Nelson, Bradley David
November 16, 1954 - April 8, 2018

It is with tremendous sadness that we announce the passing of Bradley David Nelson, age 63, of Frontier, Saskatchewan. Brad was born on November 16, 1954 at the Frontier Hospital to Ernie and Lillian Nelson. He was raised on the family farm north of Frontier along with his siblings Steve and Kathy. He passed away peacefully at the Regina General Hospital on April 8, 2018.

Brad attended Frontier School graduating in 1972. He went to work at Friggstad Manufacturing Ltd. until the fall of 1973 and then attended the Saskatchewan Technical Institute in Moose Jaw for two years studying Business Administration. Following his graduation from Tech in 1975, he returned home to work - the beginning of his distinguished career which included three companies: Friggstad Manufacturing Ltd, in Sales & Marketing; Flexi-Coil Ltd as Plant Manager and International Marketing, and Honey Bee Manufacturing as General Manager and most recently, Chief Financial Officer. His work required extensive travel around the world, representing the companies and their products. When he returned home he thoroughly enjoyed relating the stories that came from those experiences. With the premise that "change is as good as a rest", he also enjoyed operating the family farm alongside his dad, Ernie and recently with his son, Jared. He served on the Frontier Village Council for eight years and was the Mayor from 1985 to 1994. Brad served on numerous boards, including Sask Energy, Briercrest Family of Schools, Agriculture Manufacturers of Canada, Bethel Lutheran Church and the Canadian Manufacturers and Exporters Advisory Board, among others. In 2017 Brad was humbled when he received a Canada 150 medal for being a 'nation builder' – and he was. Leadership was natural and instinctive to Brad and he served those he led with integrity and consistency. His ability to connect with people, genuinely caring about them, along with his tremendous sense of humour, paved the way to countless relationships with young and old alike.

On July 24, 1976 he married Gail Heggestad and they were blessed with two children, Jared and Jobi. Their family grew again when Jared married Jaimie and Jobi married Duane. Then came the exceptional blessing of four precious granddaughters, Naomi, Naimy, Kali and Lilah. Definitely a great husband and father, Brad was an unbelievable Grandpa who always took the time to make up a game, tell a story, build a fort, or play hide and seek. In his spare time, Brad loved nothing more than spending a day at the lake fishing, gopher hunting, photographing old barns and abandoned relics, digging into a history book, or working in his shop at the farm.

In the face of his health issues, Brad was accepting of God's will for his life. His faith sustained him through all the ups and downs, never allowing bitterness or resentment to take root. He purposefully chose to find joy in each moment, regardless of the challenges he faced. His deep faith along with his positive attitude were a comfort and strength to his family and friends. He was so loved by all of us.

Brad was predeceased by his father, Ernest Nelson, in 2010; his mother-in-law, Fern Heggestad, in 1995; and his father-in-law, John Heggestad, in 2007.

He is survived by his mother, Lillian Nelson; his loving wife, Gail, of 41 years; his son Jared (Jaimie) and granddaughters, Naomi and Kali; his daughter, Jobi (Duane Regier) and granddaughters, Naimy and Lilah; his brother, Steve Nelson (Marilyn), and his sister, Kathy Pidwerbesky (Ed); sisters-in-law, Carmyn Evenson (Gerry) and Karen Vasseur (Barry); and nieces and nephews: Roberta Peakman (Ken); Jhalene Groth (Kolby); Melanie Johnson (Mike); Chelsey McBurney (Clayton); Chad Nelson; Clint Nelson (Megan); Kylie Wasko (Kevin); Denyne Fontaine (Nash); Kristopher Pidwerbesky; Zachary Pidwerbesky; as well as eighteen great nieces and nephews, two great-great nephews, one uncle, five aunts, numerous cousins and countless friends.

A Celebration of Life was held on Saturday, April 14, 2018 at 2:00 p.m. from Bethel Lutheran Church in Frontier with Pastor Brian Smith officiating. Family Memories were shared by Jobi Regier, the obituary was read by Kyle Kozlowski, Daryl and Barb Houser presented the eulogy and special music was by Brooks and Brittany Thoring. Interment took place at Ridgely Cemetery at Frontier. Binkley's Funeral Service of Shaunavon (www.Binkleys.com) was in charge of the arrangements.

Pallbearers were Chad Nelson, Clint Nelson, Kristopher Pidwerbesky, Zachary Pidwerbesky, Nelson Johnson, Kirk Peakman and Tanner Peakman.
Previous Events
Service
Bethel Lutheran Church
117 Centre Street
Frontier, Saskatchewan S0N 0W0
Cemetery Details
Location
Ridgely Cemetery
SW 16-3-20-3
Frontier, Saskatchewan S0N 0W0
Memorial Contribution
Charity of the Donors Choice
If you wish to gift a memorial donation please contact Binkley's Funeral Service at 306-297-2412 or toll free at 1-877-BINKLEY (1-877-246-5539)
R.M. of Frontier for Frontier & District Ambulance
108 1 Avenue West
Frontier, Saskatchewan S0N 0W0
If you wish to gift a memorial donation please contact Binkley's Funeral Service at 306-297-2412 or toll free at 1-877-BINKLEY (1-877-246-5539)