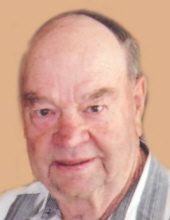 Obituary for Dick Banford
Richard (Dick) Banford age 96 years of Eastend, Saskatchewan died on Thursday, March 29, 2018 at Eastend Wolf Willow Health Centre following a brief illness.

Dick was born at Earl Grey, Saskatchewan on March 6, 1922. He was raised on their homestead south of Eastend. When Dick was 6 years old his mother died suddenly. The next fall he and his father went back to Ireland. While there his father remarried and the new family returned to the homestead in Canada. After completing Grade 8 at Atkins School he continued working on the farm with his father. He married Chlora Peterson in 1952 and moved to the Peterson farm where they pursued a life of farming, raising their family and being active in their community. They moved into Eastend in 1982 but continued to farm with son David until Dick retired. He enjoyed hunting, fishing and camping as well as travelling and playing cards with his friends. Even though he made new friendships, he missed his old friends having outlived most of them. Over the years Dick played on Atkins Ball Team, and was also involved with Clay Centre Gun Club and Clay Centre Snowplow Club. He was a charter member of Eastend Kinsmen and belonged to K40's. He had a gift for telling stories and was well known for his jokes. His wonderful sense of humour will always be remembered!

Dick was predeceased by his father John, his mother Catherine and his step-mother Kathleen, his brother Jack, twin granddaughters Lacey Thoring and Ashley Thoring and son-in-law Blaine Andrejcin.

He is survived by his wife Chlora; his daughter Diane Thoring (Raymond) of Frontier and grandchildren Jodie Doerksen (Ken), Lyndi Gryde (Kirk) and Jordan Thoring (Suzy); his daughter Nadine Armstrong (Bill) of Ravenscrag and grandchildren Travis Armstrong (Dixie) and Nicole Poppy (Cory); and his son David; 18 great grandchildren; his sister Amy Nielson of Frontier as well as by many nieces and nephews.

Funeral Services were held at Eastend Memorial Hall in Eastend on Friday, April 6, 2018 at 2:00 p.m. with Connie Sykes officiating. The urn bearer was David Banford and the eulogy and memories were presented by Nadine Armstrong. An Irish prayer was read by Jodie Doerksen. Ushers were Charles Michel and Donald Banford. Interment took place at Riverside Cemetery at Eastend. Honorary pallbearers were everyone who liked to listen to his stories and jokes.
Previous Events
Service
Eastend Memorial Hall
135 Oak N
Eastend, Saskatchewan S0N 0T0
Cemetery Details
Location
Riverside Cemetery
N49.50672 W108.83427
Eastend, Saskatchewan S0N 0T0
Memorial Contribution
Wallace Stegner House
If you wish to gift a memorial donation please contact Binkley's Funeral Service at 306-297-2412 or toll free at 1-877-BINKLEY (1-877-246-5539)
Eastend Historical Museum
If you wish to gift a memorial donation please contact Binkley's Funeral Service at 306-297-2412 or toll free at 1-877-BINKLEY (1-877-246-5539)