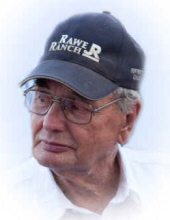 Obituary for Glen Blackmer
Glen Blackmer age 92 years of Shaunavon, Saskatchewan died on Thursday, January 25, 2018 at Shaunavon Hospital & Care Centre.

Glen was born December 7, 1925 at Bracken, Saskatchewan to Charles and Emma Blackmer. He grew up on the family farm with his younger brothers Gene and Lorne and attended Bracken school. He worked as a farmhand for Caswells, McGuires and others in the Bracken area. He served in WWII. He was deployed overseas however the war ended before he saw any action. He returned to the farm north of Bracken after the war. Glen enjoyed curling and playing ball. Around 1965, Glen and Ann were married. Due to his health, around 1975 he sold the farm and moved to Shaunavon. Glen worked at the stock yards in Shaunavon for many years, as well as for farmers around the area. Glen and Ann parted ways in 1990. Glen met up with Verna Rapley whom he had known from his childhood in Bracken. In 1993 they semi-retired on an acreage outside of Shaunavon. He enjoyed looking after animals especially his horses and Charolais cows. He enjoyed coffee row, playing cards especially crib, rummy & whist, watching ball games and visiting with friends and family. After Verna passed in 2006, Glen continued to live on the acreage. He became especially good friends with his neighbor Jack Busse and would regularly go over for coffee, supper and cards. Glen was able to live independently in his own home for as long as he did because of his devoted friends, Jack Busse and Ray Stevenson, who helped him clear snow, feed bales, care for the horses and the yard and they checked in on him often. In the fall of 2016, he moved to the Gull Lake Care Home for 4 months before he was transferred to Shaunavon Care Home in January 2017 until his passing from a stroke January 25, 2018.

He was predeceased by his parents Charles and Emma Blackmer, two brothers Eugene and Lorne, sister-in-law Doreen Blackmer and his friend Verna Rapley.

Glen is survived by sister-in-law Barbara Blackmer of Pincher Creek, Alberta, nephew Rick Blackmer, nieces Brenda Lewis, Tracey Blackmer, Linda Mead and Beverly Cole, cousin Mildred Edwards, step-children Edna Facette (Arthur) of Val Marie, Saskatchewan and George Rapley of Climax and their families.

Funeral Services were held from Christ the King Church in Shaunavon on Wednesday, January 31, 2018 at 2:00 p.m. with Funeral Celebrant Bernadette Schneider officiating. The eulogy was presented by his step-granddaughters Rose Rapley, Judy Corcoran, and Cathy Legault. Daniel Facette was the urn bearer. Interment of his cremated remains will take place at a later date at Bracken Cemetery. Binkleys Funeral Service of Shaunavon (www.Binkleys.com) was in charge of the arrangements.

Birthplace: Bracken, Saskatchewan District

Residence: Shaunavon, Saskatchewan

Service: Christ the King Church, Shaunavon, Saskatchewan

Wednesday, January 31, 2018 at 2:00 p.m.

Memorial Donations: Shaunavon Long Term Care Activity Fund or Shaunavon Hospital Auxiliary for Shaunavon Handivan Association Inc.
Previous Events
Graveside
Bracken Cemetery
SE 5-3-16 W3
Bracken, Saskatchewan S0N 0G0
Public Graveside Service followed by a lunch at Bracken Community Hall
Cemetery Details
Location
Bracken Cemetery
SE 5-3-16 W3
Bracken, Saskatchewan S0N 0G0