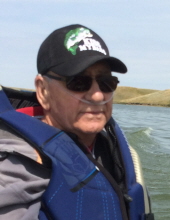 Obituary for Richard Billard
Richard Billard born November 14, 1944 in Shaunavon and died May 12, 2018 in Shaunavon.

Dad was raised on a ranch in the Southfork valley. He worked on the ranch and farmed with his dad from a very early age, deciding in 1967 to venture north to Terrace and Kitimat, British Columbia where he drove gravel truck and moved buildings. A couple years later he moved back to the farm located top of Southfork valley, he worked on the rigs and farmed full time. It was while he was on the rigs in Alberta that he met Pat Schweitzer of Killam, Alberta, marrying Mom on November 25, 1972. He often told mom that "she was the best thing that ever happened to him." It was a match made in heaven! They had three kids Paul, Byllie-Rae and Paula. Dad took on a bus route in 1985 till 2001 as well as continued to farm which wasn't an easy task. Love for family was shown by his willingness to assist in anyway. He gave unselfishly of himself, his time to come and help us with anything, he was a jack of all trades. Dad loved camping, boating and fishing and he had to get his farming done so he could go. Dad retired from farming in 1998 due to his health. In 1999 Dad and Mom moved into Shaunavon. Dad worked at Jack's Repair but farming was his passion and when the opportunity arose to help Maurice and Michael Billard with harvest in the fall he was ecstatic. Dad and Mom's holiday revolved around when harvest might be done. When Dad really retired he started to camp seasonally at Carefree Park where he could fish, boat and coffee. We always said for such a quiet guy he was such a social butterfly. It was during this time lifelong friends convinced Mom and Dad to go to Mexico. Dad was ready to check that out so away they went. So with a tiny bit of persuasion they went to a few more places Virginia, Costa Rica, and Phoenix. Dad was diagnosed with severe COPD in August 2013 after having heart surgery. He was resilient and he bounced back dragging his oxygen with him. Dad's health deteriorated drastically a year ago and Dad knew it was getting to be too much for Mom and together they decided it was time to go into long term care. All the years he struggled, he was never bitter, never complained, he accepted his circumstances with grace. So at the end of September with much agonizing Dad moved into Shaunavon Long Term Care where he resided until his death.

He was predeceased by his father Lucien (1978), nephew Steven Johnson (1972), brother-in-law Don Johnson (1973).

He is survived by his wife Pat and their three kids Paul of Brooks, Alberta, Byllie-Rae (Kevin) Szwetz of Shaunavon, Paula (Tyler) Wilson of Admiral. The darling grandchildren Joey Billard, Bayle and Mikaela Szwetz, Oliver, Toby and Kasper Wilson. His brother David (Rhonda) of Saskatoon and sister Irene (Eric) and his mother Renee of Sooke, BC. Sisters-in-law Myrna (Gavin) McConnell and Paula (John) McEachnie of Spruce Grove, Alberta, as well as nieces and nephews.

A Memorial Service was held from Shaunavon Elks Hall in Shaunavon on Tuesday, May 22, 2018 at 11:00 a.m. Binkley's Funeral Service of Shaunavon was in charge of the arrangements. Memorial donations in memory of Richard may be made to Shaunavon Handivan Association or to charity of choice.
Previous Events
Service
Shaunavon Elks Hall
501 3rd Avenue East
Shaunavon, Saskatchewan S0N 2M0
Memorial Contribution
Shaunavon Hospital Auxiliary for Shaunavon Handivan
Shaunavon, Saskatchewan S0N 2M0
If you wish to gift a memorial donation please contact Binkley's Funeral Service at 306-297-2412 or toll free at 1-877-BINKLEY (1-877-246-5539)