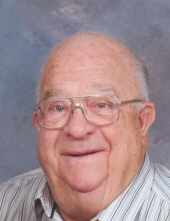 Obituary for Russ Markell
Russ Markell age 86 years of Shaunavon, Saskatchewan died suddenly at his home in Shaunavon on Sunday, April 29, 2018.

Russ was born at Moose Jaw, Saskatchewan on December 1, 1931 and was raised in various communities around Moose Jaw. Immediately following his graduation from High School he began working in the funeral profession in Moose Jaw and received his embalmer's license on February 4, 1952. While working at W. J. Jones and Son Funeral Home in Moose Jaw, he met a young nurse Joan Hengel. They were married at Christ the King R. C. Church in Shaunavon on November 24, 1953. In 1957 he and Joan purchased a half interest in Binkley's Funeral Service (Shaunavon) Ltd. Along with the operation of the funeral home, Russ and Joan saw a community need for an ambulance and offered this service from 1957 to 1974 when it was taken over by the local hospital. Russ retired from Funeral Service in 1985 although he continued to help out at the funeral home as needed. Russ was an active member of Christ the King R.C. Church and a member of the Knights of Columbus. He served on the Separate School Board and the Shaunavon High School Board, was secretary of the Shaunavon Curling Club, served as a councillor for the Town of Shaunavon and was their representative on the Nursing Home Board. He had been a member and past president of the Shawnee Club (Jaycees) and had served as president of the provincial Jaycees. He was an active member of the Shaunavon Chamber of Commerce. Russ was instrumental in establishing the Shaunavon Courtesy Van and then served as a board member and driver for many years. He volunteered delivering Meals on Wheels. He was a member of the Shaunavon Elks Lodge, serving as Treasurer for 16 years. For 8 years Russ served as Chairman of the annual Canadian Cancer Society canvass and was awarded a Certificate of Merit for his extraordinary leadership. In 1999 Russ was selected as Shaunavon's Citizen of the Year. He and Joan have spent the last 8 years living at the Villa. Russ loved Shaunavon. He was an avid fisherman. He loved travelling to various places around the world; he especially loved his motorhome and the many annual trips he and Joan took to Hawaii.

He was predeceased by his father Lloyd Markell on December 17, 1969, his mother Olive Markell on June 24, 1994, sister Beverley Schneider on May 15, 1981 and grandson Tory Paul Cole on June 22, 2017.

He is survived by his wife of almost 65 years, Joan, four daughters, Linda Brown (Brad) of Destiny Bay, B.C.; Gayle Brazier (Ron) of Little Bow Resort, Alberta, granddaughter Melissa Zolmer (Ryan) and great grandsons Sylus and Grayson of Strathmore, Alberta and grandson James of Strathmore; Karen Schile (Leo) of Medicine Hat, Alberta and great grandchildren Wyatt and Noella; and Mary Anne Kawaza (Bob) of Medicine Hat, grandson Dylan Armstrong (Kristin) of Medicine Hat and great grandchildren Chloe and Jax; his brother Merv Markell (Ruth) of Victoria, B. C. as well as by many nieces and nephews.

Funeral Services were held from Christ the King R. C. Church in Shaunavon on Thursday, May 3, 2018 at 10:30 a.m. with Reverend Father John Mock officiating. The eulogy was presented by Linda Brown. Members of the 4th Degree Knights of Columbus and Shaunavon Elks Lodge attended forming a guard of honor. Interment took place at St. Mary's R. C. Cemetery at Shaunavon. Prayer services were held from Christ the King Church on Wednesday, May 2, 2018 at 7:00 p.m. Binkley's Funeral Service of Shaunavon (www.Binkleys.com) was in charge of the arrangements.

Honorary Pallbearers were Rick and Bernadette Schneider, Beth and Al Lewans, Herb and Debbie Conrad, Harriet Bastura, Brian and Dianne VanSandt and all family and friends present. Pallbearers were Ron Bastura, Brent Audette, Craig VanSandt, Cameron VanSandt, Darcy Schneider and Kelly Boyle.
Previous Events
Prayer Service
Christ the King R.C. Church
580 - 5th Street East
Shaunavon, Saskatchewan S0N 2M0
Service
Christ the King R.C. Church
580 - 5th Street East
Shaunavon, Saskatchewan S0N 2M0
Cemetery Details
Location
St. Mary's R.C. Cemetery
580 - 5th Street East
Shaunavon, Saskatchewan S0N 2M0
Memorial Contribution
Shaunavon Courtesy Van
Shaunavon, Saskatchewan S0N 2M0
If you wish to gift a memorial donation please contact Binkley's Funeral Service at 306-297-2412 or toll free at 1-877-BINKLEY (1-877-246-5539)